Small business owner, Stuart Liddle of 'Visual Technology' based at the btc on Bessemer Drive, has created an innovative, new hand sanitising station, the SV-01, equipped with head-count technology, temperature checker and traffic light warning system, automatic hand sanitiser dispenser, digital display screens and facial recognition…it even knows if you're not wearing a mask!
This machine is a combined project involving several other local small businesses, including another business based at the btc, 'Cyanetics'.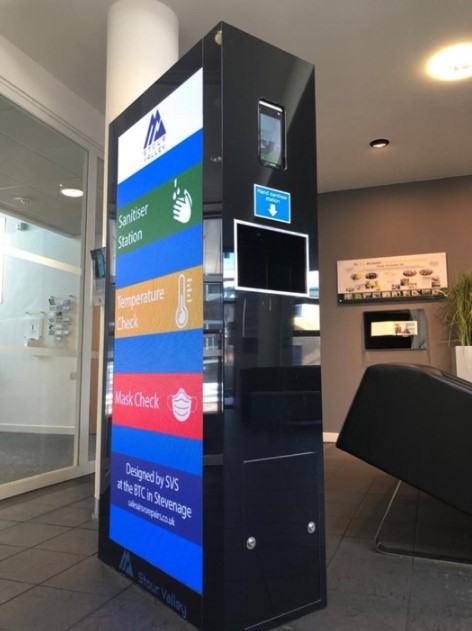 The project came about after Visual Technology's sister company, based in Cape Town, was tasked with designing and building a sanitising station for South African National Health Department. Visual Technology then transferred the idea to be redesigned for the UK market, right here at the btc. Sourcing expertise, parts and other resources locally in Hertfordshire, covering everything from the manufacturing of a specially formulated hand sanitiser fluid, created by Cyanetics, to the framework from a Stevenage Steel Manufacturer 'Alroy Sheet Metal'.
Stuart Liddle, owner of Visual Technology said:
"We see huge value in working with local companies. Our logistics, steelwork, cladding and sanitiser fluid are all sourced from companies in Hertfordshire. Working in this way maintains our flexibility, responsiveness and helps reduce costs."