Wenta client at the btc in Stevenage builds innovative sanitiser station
Small business owner, Stuart Liddle of 'Visual Technology' based at the btc on Bessemer Drive, has created an innovative, new hand sanitising station, the SV-01, equipped with head-count technology, temperature checker and traffic light warning system, automatic hand sanitiser dispenser, digital display screens and facial recognition…it even knows if you're not wearing a mask! This machine is a combined project involving several other local small businesses, including another business based at the btc, 'Cyanetics'. 
The project came about after Visual Technology's sister company, based in Cape Town, was tasked with designing and building a sanitising station for South African National Health Department. Visual Technology then transferred the idea to be redesigned for the UK market, right here at the btc. Sourcing expertise, parts and other resources locally in Hertfordshire, covering everything from the manufacturing of a specially formulated hand sanitiser fluid, created by Cyanetics, to the framework from a Stevenage Steel Manufacturer 'Alroy Sheet Metal'. 
Stuart Liddle, owner of Visual Technology said: 
"We see huge value in working with local companies. Our logistics, steelwork, cladding and sanitiser fluid are all sourced from companies in Hertfordshire. Working in this way maintains our flexibility, responsiveness and helps reduce costs."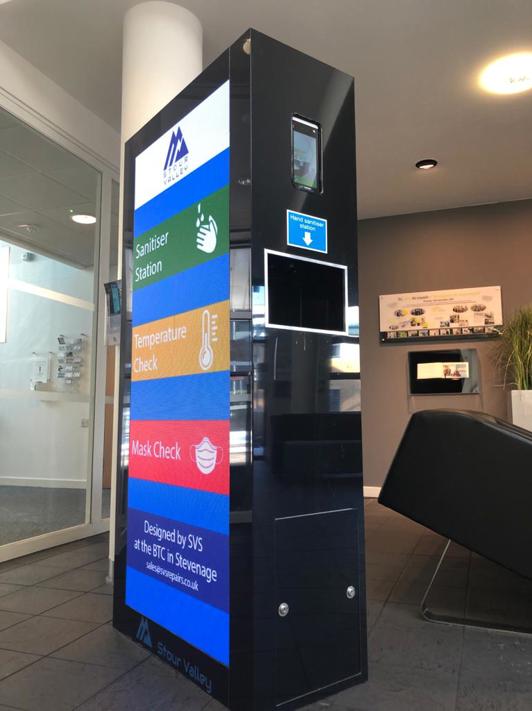 Sanitising station in situ at the BTC in Stevenage.
Visual Technology has a well-established background in digital screens having provided bespoke systems for many clients. This experience would prove to be one of the key elements of the SV-01 Sanitising Station as the integrated screens allows for branded content to be implemented and updated regularly. Crucially on the SV-01 Sanitising Station, the system has an in-built system that links through to Public Health England's media site and displays the most up-to-date Government health and safety guidance on COVID-19. 
It was important to Visual Technology that the machine would be multi-functional so that the product would still be relevant well beyond the waves of the pandemic. Its diversity means that it can be used in a multitude of instances by a multitude of businesses and be displayed anywhere! The company has already received a lot of multi-industry interest. 
Visual Technology was formed in 2002 and, up until 2009, had offices in different locations in the South East before discovering the btc (The Business and Technology Centre in Stevenage), where the business has been located ever since.  
Stuart Liddle of Visual Technology said:  
"The support from the btc has been fantastic. The team helped us to initially set-up our office, they introduced us to other business owners that were also working at the btc and they also introduced us to some new business partnership and development opportunities. Working at the btc definitely sparked our passion for working with other local businesses." 
Stuart at work
Jo Kiely, Centre Manager at the btc said: 
"We love to see businesses collaborate, innovate and grow and we're here to help in every way we can. The btc is much more than your average business centre – we provide free advice and support to help local businesses grow and prosper. This is a fantastic collaboration and we're really proud of all the businesses involved. We're pleased to have been able to support both Visual Technology and Cyanetics through our flexible and affordable workspace as well as free business advice and support services too!"  
Visual Technology is a fantastic example of a business that has been able to adapt to the ever-changing COVID-19 environment. Stuart gave some insight on how they approached this and it serves as great advice for other small businesses during these challenging times too: 

"We looked at the areas of our business that we would be able to adapt and really examined the core skillsets we have as a team and as a business to see where else we could be utilising and re-purposing our skills and products."   
Workspace at Wenta is available on flexible, monthly terms. All types of businesses are welcome and our onsite team are always here to help with free advice and support too:
Find your next workspace, discover a world of possibilities